Ubinary is a proprietary platform owned and operated by PPT Capital LTD located in London. To my knowledge they are not regulated at this time.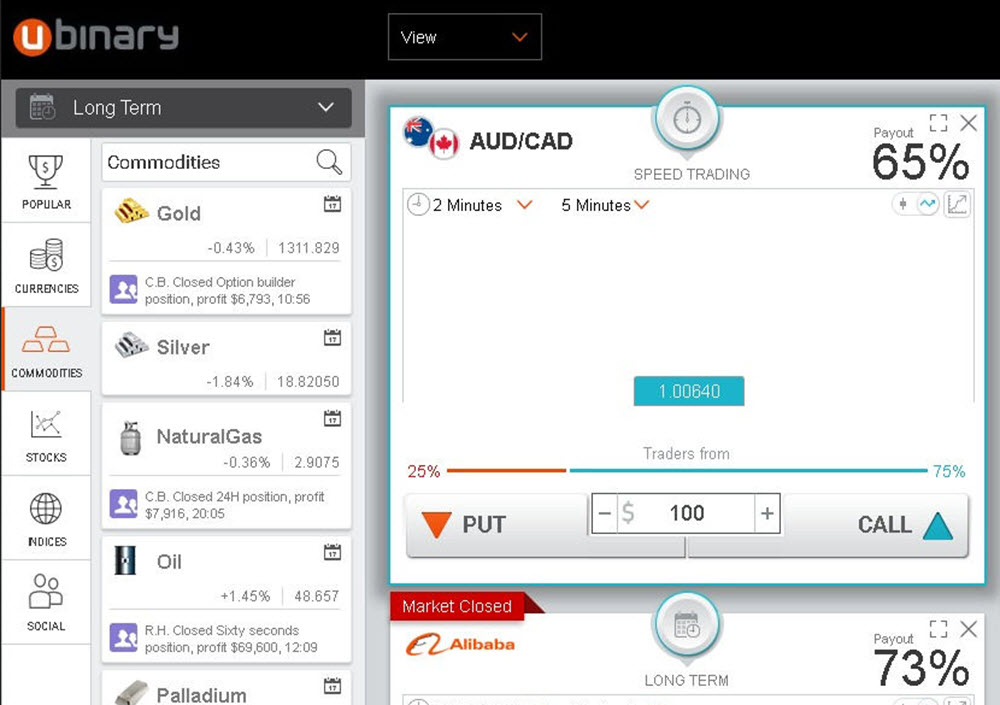 Details
| | |
| --- | --- |
| Broker | uBinary |
| Website URL | www.ubinary.com |
| Trading Platform | Proprietary |
| Minimum 1st Deposit | $250 |
| Minimum Trade Amount | $20 |
| Bonus | 30% bonus up to $2,000! |
| Payout | Up to 85% |
| Free Demo Account | |
| Number of Assets | Proprietary |
| US Traders Allowed | |
| Overall Score | 82 |
Full Review
This is an interesting broker because the platform is so good in some ways and yet too limited to be an attractive option for serious longer term traders. Among the things you will find missing are the range and boundary type binary options. This does not bother my, I never trade that way. I know a few folks who do but like I said, unless you are primarily day trading forex this may not be your broker. But, if you are into day trading forex, this is a hot broker, I like the platform and think it has a lot going for it.
The Ubinary Platform
The platform looks a little busy until you get used to it. The default trade screen is filled with the most popular traded assets on the site. I like to click on forex, stocks or indices in order to filter the assets into a more manageable view. Then, you can trade directly from this screen or click on an asset to expand the view. There is only one available trade however, higher or lower. I don't mind but some people might. Expiry is pretty limited as well. Ubinary has 60 second, 2 minute, 5 minute and a coupleo of intraday expiry's but not much longer term. I found that the commodities and stocks at least had an end of the month expiry. A lot of binary traders are moving away from day-trading, opting for weekly and monthly positions, so Ubinary may have to adapt with more types of expiry in order to keep up with other platforms.
The asset list is good but not great. It is a fantastic list for currency buffs, they have about 30 pairs, the most I think I've seen with any broker, but restricted for other kinds of binary traders. There are only 7 indices, 6 commodities and about 20 stocks. Indices are limited to the major U.S. and EU indices with the Nikkei thrown in as a nod to Asia. The commodities list is OK, 6, not the best and not the worst. The thing to keep in mind is that I often only find 4 available. One plus is that they have Nat Gas options, a real bonus for oil traders. They have about 20 stocks on the Asset List. When I went looking for them there were not that many available but they did have names like Apple, Google, Coca Cola and Facebook.
Banking With Ubinary; Deposit, Withdrawal and Bonuses
One thing I found troubling was a lack of information about banking on the site. The Terms&Conditions, which I always read, make no mention of it, there are no FAQ's about it (another good place to look for information) and no page or link directing to their practices. This does not mean that information is not there but I had to actually register an account, no deposit required, in order to find it and it really wasn't easy. Deposits can be made in the usual ways; credit card, wire transfers and online wallet CashU. My recommended method is with CashU, simply set up an account with them and then use them to  funnel your deposits and withdrawals.
Minimum deposit is $250 for a micro account with a minimum trade size of $20. Withdrawals should be pretty fast, within 3-7 days according to the information I found and maybe even quicker using CashU. They make no mention of fees but assume that wire transfers and credit card withdrawals may be subject to handling fees not charged by Ubinary. Ubinary also uses a variety of bonuses to attract new customers and reward existing ones. Sign-up bonuses are based on your deposit amount up to 40% with a limit of $5,000. The trade volume minimum is 25X the bonus amount which is about average for the industry. You may opt out of the bonus if you want but if you accept it you will have to meet the minimum before making any withdrawals but at least there are no time limits.
Ubinary Broker Extra's
There are a few extra's available with this broker. The more you deposit or earn through trading the more that will be available to you. Accounts over $5,000 are eligible for higher payouts up to 5-10% above the standard rates. Other features that do not require such a large deposit include Flip and Buy Me Out. Flipping a positions allow you to flip a position from higher to lower, or vice versa, during the life of a trade. This means that if you think you made a bad trade, you can reverse your position and try to capture the profit. Buy Me Out is an early out feature that lets you cut losses or lock in profits before the expiry of the option.