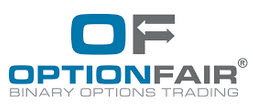 OptionFair is a safe and user-friendly platform where traders can feel completely secure. Trading is very easy, and can be divided into three steps: picking a product, choosing an asset and, finally, trading/investing. Joining this site gives traders the perfect tools to make their experience as simple and smooth as possible.
Key Facts
The great things about creating an OptionFair account are the variety of tools available and the safe system, ensuring the best possible starting point for making successful decisions. The site consists of training material to make it easier to reach new levels, and to dive into many different aspects of this industry. OptionFair became a regulated broker in 2013, and today the site is available as a web version or an on-the-go app, which can be found for both IOS and Android. There is a minimum deposit of £250, and a minimum trade of £25. Other key factors for traders to take advantage of are trade alerts, high payouts, bonuses from 30% to 100% and, most importantly, transparency.
OptionFair Trading Platform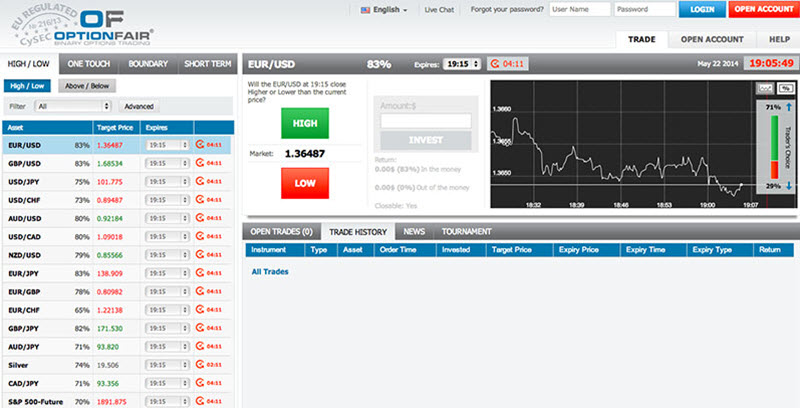 The platform is easy to understand, and provides a nice overview of what the site has to offer. The first step is to choose a type of trade, and there are four to choose from: high/low, short term, boundary and one-touch. The next step is picking an asset among a variety of stocks, currencies, commodities and indices. Once the choice has been made, the expiry time can be selected, and information regarding the trade will appear. There will be graphs, lists and different tabs where traders can keep track of anything relevant, such as a trader's choice bar, potential payouts and other features.
Withdrawals and Deposits
OptionFair does not require traders to make a deposit when opening an account, but a trader needs to add at least £250 before starting to trade, depending on the payment method. Options include credit cards, e-wallets, wire transfer, Western Union and MoneyGram. There is no minimum withdrawal amount, so it is up to each individual trader to decide if, and when, to withdraw funds. However, it is only possible to withdraw money without charge once a month, and additional withdrawals will cost £30 each. The processing time is usually not more than 5 days but, again, this depends on the payment method.
Customer Support
If a trader needs any assistance at some point in the process, OptionFair offers several points of contact to satisfy all needs. Traders can call, email or use the live-chat function to speak with sales and support members on the team.
Summary
OptionFair is an excellent platform for both experienced people and those looking to start trading. The site has many helpful instruments and guides to assist with the process, and offers many exciting features, such as tournaments, an elite club, bonuses and much more. Potential payouts are high, and there are several payment methods to choose from for both deposits and withdrawals. This is a user-friendly and well-structured site, built to help traders achieve success.